This is a Sponsored post written by me on behalf of SAVE for SocialSpark. All opinions are 100% mine.
My husband has been anxious to make a trip to Texas. He even went so far as to apply to jobs in Texas. He's a huge Dallas Cowboys fan, however he also loves everything he's ever seen about Texas.
One of my long time friends, Lexi, lives in Texas too. I would love to live closer to her so that I could hang out with her.
Aside from Dallas and Irving (home of the Cowboys), I'd love to go to San Antonio. There seems like there is so much to see and do there. Whenever I watch shows on TV that highlight San Antonio they make me want to book a flight the next day.
Did you know that San Antonio is one of the nation's most affordable vacation destinations? Not only that there is so much to see and do there, from theme parks to exquisite dining experiences.
If you are planning a vacation to San Antonio you should check out their SAVE – San Antonio Vacation Experience. With SAVE you can get up to $600 in savings to area theme parks, shops, historic tours, animal adventures and even great savings on area hotels. Some great family destinations that SAVE can help you save some money with include SeaWorld, Six Flags Fiesta Texas, Schlitterbahn, Splashtown, Natural Bridge Wildlife Ranch, San Antonio Botanical Garden, & more!
SAVE has partnered up with many of San Antonio's hotels, resorts that range from budget to luxury. SAVE has an accommodation for every price point and need.
SAVE hotels can be found along the River Walk in the heart of downtown as well as surround theme parks and the airport. Some of the hotels include: Grand Hyatt San Antonio, Hyatt Regency San Antonio on the Riverwalk, San Antonio Marriott Riverwalk Hotel, Hilton Palacio del Rio, The Westin Riverwalk San Antonio and many more!
SAVE also has Limited Time Offers (LTOs) for special limited time deals and added value at hotels and attractions.
If my family was going to plan a trip to San Antonio I would like to stay at the Grand Hyatt San Antonio. Not only does it look like a nice hotel but there is also a special LTO price with includes breakfast for two and complimentary parking.
We would definitely plan a trip to Sea World. Currently SAVE has a coupon for $10.00 per ticket up to six tickets. That would help my family of four save $40!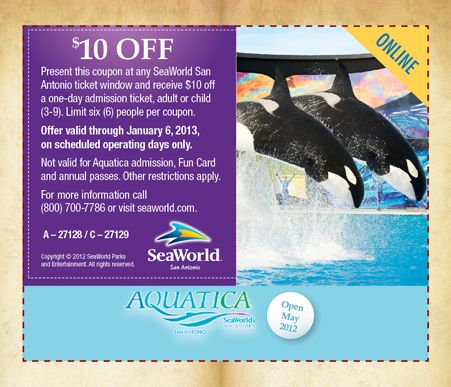 My kids would also love to go to Six Flags. SAVE has a buy one get one free ticket deal. That would save my family 50% off admission. That is a great deal!
I know my kids would love to go to Watertown which is a massive water park in San Antonio. With SAVE we can get $7.00 off per ticket. That is another $28 in savings for my family
I would love to go to the Natural Wildlife Ranch. I love animals.
SAVE can help us save $2 off admissions (per ticket). That would total $8.00 for my family of four.
Personally I would LOVE to take a helicopter tour over the area. My family has never been on a helicopter before and I'm anxious for them to have that experience. SAVE has a special deal where we can save 10% off all flights. I doubt I can talk my husband into it (he hates flying) but you never know.
Using SAVE would help cut down the costs of area hotels and attractions and help us to stick to our budget without missing out on fun things to see and do in the San Antonio area.
Visit www.Save.VisitSanAntonion.com to learn more about SAVE and to check out their partners. You can also follow them on Twitter @SAVEinSA for more great specials and deals.
Kimberly
Related Posts: