I thought my readers might be interested in learning about a cute movie that is currently available at RedBox kiosks across the country, especially if you have a young daughter or granddaughter. It's called Twinkle Toes. Have you heard of it before?
Here is a brief synopsis from from RedBox website;
Grace "Twinkle Toes" Hastings has a big secret…she gets terrible stage fright in front of anyone but her fluffy friend Walter. As Grace works to overcome her fears and makes some super-cool friends at her new school, she discovers that it's OK to go ahead and shine!
Here is a brief clip from the movie. If you are reading this via e-mail you can see the clip here, http://bit.ly/PLND42.
As you can tell from the clip a lot of focus is made on their shiny, sparkly light up shoes. Skechers actually carries the line of shoes called Twinkle Toes. Twinkle Toe shoes are colorful and unique. Most of the Twinkle Toes shoes light up which always has huge appeal with young children. When my kids were younger they loved wearing shoe that lit up.
Check out a few of the Skechers Twinkle Toes shoes.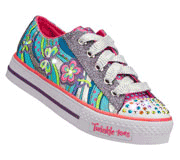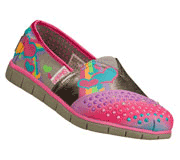 They look like a lot of fun.
Skechers Twinkle Toes shoes can be purchased online and at various retail locations across the country.
If you would like to check out more styles visit www.Skechers.com/Girls.
Don't forget to check out the Twinkle Toes movie at your local RedBox. You can find your local RedBox location by visiting www.RedBox.com. RedBox carries a variety of family friendly movies, even games! The titles change often so be sure to check back frequently for new and exciting movies.
In honor of the Twinkle Toes movie being made available to RedBox customers across the country, RedBox is excited to giveaway vouchers to be redeemed for Twinkle Toes branded Skechers to FOUR lucky She Scribes readers (on voucher per winner). Thank you RedBox!
This giveaway is open to US residents only and will end on September 8, 2012 at 12:01 AM (EST). The winners will all be chosen at random using a random number generator from all eligible entries. The winners will be notified via e-mail and will have three days to reply or a new winner will be chosen in their place.
To enter please comment on this post and tell me what other family friendly movie you would love to rent from your neighborhood RedBox – or – which Twinkle Toes  by Skechers shoes you think your child would want if you won the voucher?
For extra entries you can use the Rafflecopter widget (below) but you MUST complete the initial entry requirement (above) or the additional entries won't qualify (I do verify).
Kimberly
*I will be receiving a gift voucher in exchange for my participation, however I will be donating my voucher since I do not have a child young enough to wear these shoes. All opinions expressed are my own and are not influenced in anyway. RedBox will be providing the gift vouchers.
Related Posts: