This is a Sponsored post written by me on behalf of ALPO® Brand Dog Food for SocialSpark. All opinions are 100% mine.
Do you have a dog? We have a dog. His name is Espn (pronounced "Es-pin"). He's named after the Sports Channel ESPN. Can you guess who named him? LOL! It was either that or NFL (we'd pronounce it "Neff-fell"). You can see why I agreed with Espn. I wanted to name him Obi, after the Star Wars character Obi-Wan. We already have an Anakin and Padmé (pronounced "Pad-May"), who are also Star Wars characters.
Espn is a picky eater. We also have to be careful what we feed him because he has a sensitive stomach and certain foods make him sick (mostly diarrhea). So we tend to stick with a few of his favorites that we know won't bother his stomach.
One of his favorites is ALPO® Chop House. It comes in small cuts and finely ground form, making it great to mix in with dry food (Espn prefers it straight from the can). It's 5.5 oz. size is great for small dogs. Espn is considered a medium to small size dog, depending on who you ask (he's around 22 pounds). My hubby mistakenly picked up the bigger size cans, which is fine for Espn. He has a huge appetite and enjoys the large cans too. 🙂
ALPO® Chop House comes in great flavors that Espn loves such as Rotisserie Chicken Flavored Cuts, Tender Cuts With Lamb, T-Bone Steak Flavored Cuts and Filet Mignon Flavor. It's funny to think while my family is enjoying chicken soup and grilled cheese sandwiches for dinner that Espn is having Filet Mignon or T-Bone Steak. Ha Ha.
Not only does ALPO® Chop House and other wet dog foods provide my dog with varieties and flavors he enjoys, it also provides him with the nutrition that he needs. That is because ALPO® wet food is 100% complete and balanced. It's made with quality ingredients that our dogs needs such as wholesome grains and healthy protein sources. There is even a touch of vegetables to contribute to a complete and balanced diet. Espn LOVES veggies!
ALPO® wants to help support a healthy life, strong bones and teeth, shiny coat and of course a happy life. That is why they make their food tail wagging good.
Check out Espn and how excited he is to have a can of ALPO® Chop House dog food.
For more information about ALPO®'s wet food nutrition visit http://alpo.com/dog-nutrition. You an also learn about ALPO's variety dog food by visiting http://alpo.com/dog-food. You can also check out ALPO® on Instagram. and ALPO's Facebook Page.
Has your dog every tried ALPO® wet dog food before? Are you familiar with the ALPO® Chop House line? What gets YOUR dog's tail wagging at dinner time?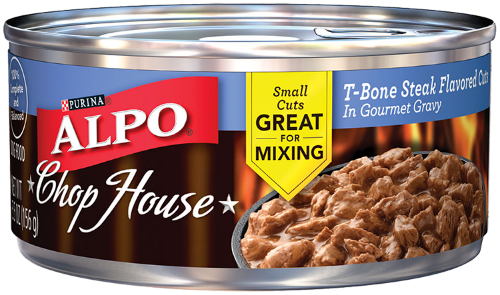 Kimberly
Related Posts: