This is a Sponsored post written by me on behalf of Buffalo Wild Wings for SocialSpark. All opinions are 100% mine.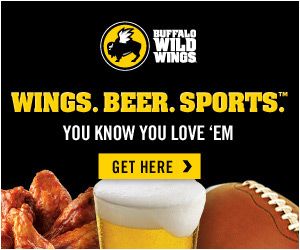 Are you ready for some football? We sure are! Just like a child counting the days to Christmas, my husband has been counting the days until opening day. He is a total football fanatic. He's very loyal to his team. So much so our son is named after his favorite team. Well, his middle name that is. It was his first name until the moment he was born by emergency C-section. We changed his name to something a bit more fitting for the situation and gave him his original first name (my husband's favorite team) as his middle name.
There is one thing that goes hand-in-hand with football – FOOD! Whenever my husband's friends come over we always make sure to have plenty of food on hand.
One staple at many football gatherings is buffalo wings. My kids, who are not into football, look forward to football games and having company over so they can enjoy buffalo wings.
I won't make buffalo wings. I must rather buy them at a restaurant.
I was never really into buffalo wings until my daughter had Buffalo Wild Wings with her friends. She couldn't stop raving about them. My husband and I took the kids there one day and we were hooked. Mmm… just writing about them makes me wish we had some right now.
Buffalo Wild Wings is our "go to" place for wings and other great "game day" foods. Plus you can watch football at the restaurant. My husband met one of his friends there recently to watch one of the games. I think whole atmosphere of the restaurant helps to make the games more exciting then just sitting home in our living room.
Buffalo Wild Wings has an array of promotions including the debut of Bottomless Boneless Lunch and Game Changing Beer*. They also have ongoing specials like Wing Tuesday and Boneless Thursday.
* Game Changer Beer is not a Buffalo Wild Wings beer. It is made by Redhook and is offered at Buffalo Wild Wings.
Buffalo Wild Wings will be debuting a new ordering app too. Keep an eye out for that.
For more information or to find a location near you visit www.BuffaloWildWings.com. You can also Follow Buffalo Wild Wings on Twitter and Like Buffalo Wild Wings on Facebook.
Are you a fan of Buffalo Wild Wings? Do you there for the food, to watch games, or both?
Kimberly
Related Posts: