Available TODAY (June 6, 2017) on Blu-ray, DVD and Digital Download is the live action version of Disney's Beauty and the Beast.
The film has a stellar cast including Emma Watson (Bell), Dan Stevens (Beast), Luke Evans (Gaston), Josh Gad (LeFou), Ian McKellen (Cogsworth), Emma Thompson (Mrs. Potts), Ewan McGregor (Lumiere), Kevin Kline (Maurice), and Stanley Tucci (Cadenza), to name a few.
I am not a big fan of remakes and "updated versions" of films. Sometimes movie are better left "as is." After all, you can not improve on a classic… or can you?
Disney has had much success with doing live action versions of their classic films including Cinderella, Alice in Wonderland, Maleficent (Sleeping Beauty) and Jungle Book. All of these films have done very well in theaters, as well as home viewing (Blu-ray, DVD and Digital Download).
Disney has other live action versions of their classic films in the works including Mary Poppins, Mulan, Little Mermaid, Cruella De Vil (101 Dalmatians) and The Lion King, to name a few.
Beauty and the Beast is one of my all time favorite Disney animated films. When I heard they were making it into a live action film I had mixed emotions. How in the world could they improve upon such a beautiful classic? I have to admit I was intrigued, especially when I heard that Emma Watson was going to play the role of Belle. Who even knew she could sing?
I received a free screener of the film to review. I received it on Friday and watched it that very same night. I had planned on seeing it in the theater but every time we made plans something always came up to prevent us from going.
The live action version follows the same story line as the classic.
Belle (Watson) lives in a small village with her father Maurice (Kline). Bell is a "book worm" who loves to read and dream about having adventures in far off places. All she really knows is the tiny village she lives in.
People in the village thing Belle is a bit odd. Belle loves to read and has no interest in getting married, much to the dismay of Gaston (Evans) who has his sights on making Belle his wife.
One afternoon Maurice sets off to sell his wares at another village. He tells Belle he'll return the next morning.
On his travels Maurice is attacked by a pack of wolves. He seeks protection inside what he thinks is an abandoned castle. Unbeknownst to him there are "people" who live there, as well as a mean and nasty "beast."
When Maurice fails to return home Belle goes off looking for him. She also comes across the castle where she finds that her father is being held captive by the beast. In exchange for his freedom, Belle offers herself to be the beast's captive. Maurice is set free and Belle is stuck in the castle with beast (Stevens).
Over time, Belle learns about the terrible curse that was placed upon the beast and the rest of the people/things that reside in the castle (the people were transformed into objects like a clock, wardrobe, ottoman and feather duster).
In order for the curse to be broken, the beast must know what true love is, as well as earn the love of another. Could Belle be the one? Can the curse be broken before it's too late? To find out you need to pick up or download a copy of Beauty and the Beast. Look for it where ever movies are sold.
I loved, loved, LOVED this film! I wasn't sure how much I was going to like it, but I ended up loving it.
The film is AMAZING! The filmmakers did a wonderful job keeping the live action film in line with the animated version. They didn't veer off that much. Even the songs are the same (with a couple of new songs).
Emma Watson was the perfect choice for Belle. After seeing the film I cannot imagine any other actress playing that role. It was as if it was made for her.
They did a great job with beast, although I think he does look a little like the folk lore creature "Krampus." When you watch the bonus features you'll see Stevens wearing an odd costume, including having to walk on odd feet so that the film makers could give Beast goat-like hooves.
The song and dance numbers blew me away. Gaston's song and dance number was especially enjoyable. That was one of my favorite songs from the animated film.
The theme song, "Beauty and the Beast," brought me to tears. The reenactment was breath taking.
Even the cinematography was out-of-this-world-amazing.
There are plenty of great bonus features worth checking out.
BLU-RAY & DIGITAL HD:

Enchanted Table Read – Join the cast for the movie's elaborately staged table read, complete with singing and dancing to live music, set pieces and more.
A Beauty of a Tale – Explore the process of transforming a beloved animated film into a new live-action classic.
The Women Behind "Beauty and the Beast" – Emma Watson introduces several of the talented women in all aspects of production who helped bring this enchanted tale to life.
Making a Moment with Celine Dion – Celine Dion shares what it's like to sing "How Does a Moment Last Forever" – and be a part of the legacy of "Beauty and the Beast."
From Song to Screen: Making the Musical Sequences – See what goes into making some of the best-known moments from "Beauty and the Beast."
Deleted Scenes
Extended Song: "Days in the Sun" – Learn more about Beast's childhood in an alternate version of this beautiful song, introduced by director Bill Condon.
"Beauty and the Beast" Music Video – Award-winning artists Ariana Grande and John Legend perform a moving version of this iconic song.
Making the Music Video – Go on set to capture the magic as it happens in Ariana Grande and John Legend's "Beauty and the Beast" music video.
Disney Song Selection – Jump directly to all your favorite songs and sing along with the movie.

DVD:

"Beauty and the Beast" Music Video
I haven't finished watching all of the bonus features (yet) but I did check out A Beauty of a Tale (a behind the scenee look at the film including interviews with cast and crew), Deleted Scenes and From Song to Screen: Making the Musical Sequences. I appreciate the film so much more knowing what went on behind the scenes to bring it to life.
I plan on watching the other bonus features when I have a chance (most likely when I watch the movie again – I can't wait to see it again!).
Something else that might be of interest is the Disney's Beauty and the Beast Summer Reading Program.
You can encourage your kids to read this summer with a special Beauty and the Beast sponsored reading program with prizes!
Win prizes this summer by joining the 2017 Summer Reading Adventure!
WHERE: at www.dogobooks.com the largest website dedicated to kids' reading and book reviews by-and-for children.
WHEN: May 26th to September 15th, 2017
HOW:
Sign-up at www.dogobooks.com and create your avatar!
Select books to read from a Reading List of 45 books
Read books and write reviews of 30 words or more
Win Prizes! (While supplies last)
SIGN UP AT  http://bit.ly/BATBSummerReading
Did you see the film Beauty and the Beast? If so, what did you think about it? Feel free to comment and share your thoughts. I always love to hear from readers.
I also have some fun activities you can download and enjoy with your family.
Simply click on the image (below) to save and/or print them out.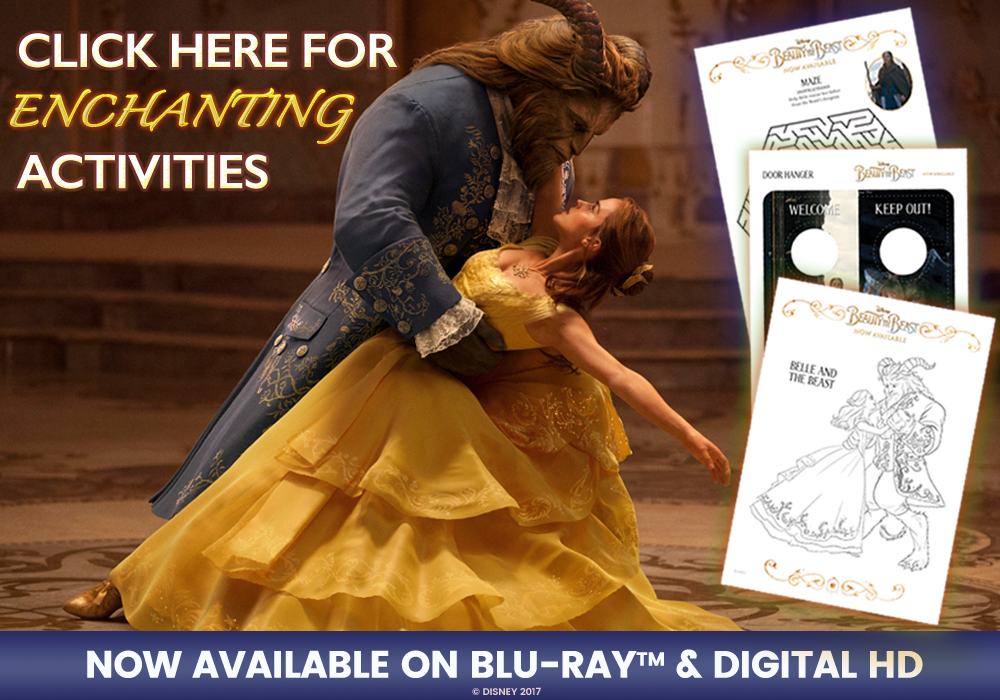 Kimberly
*I received a free screener copy to review. There was no compensation. The opinions expressed are my own and not influenced in any way.
Related Posts: