This is a Sponsored post written by me on behalf of Biz Stain & Odor Eliminator for SocialSpark. All opinions are 100% mine.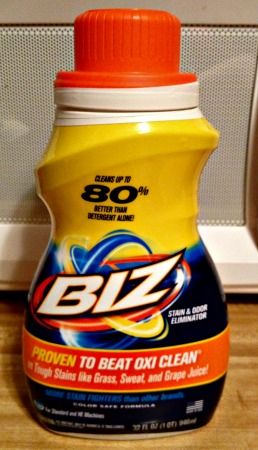 Recently I had my kids go through their clothes and separate them between good clothes, clothes they don't fit (or won't wear) and clothes that are stained or ripped in any way.
I hate seeing the ripped and stained pile so big. Most of the clothes can be saved with a stitch or two here and there and an effective stain fighting product.
Most families are on budgets and purchasing new clothes is not always an option. Therefore it's important to take care and maintain the clothes you have.
Let's face it – stains happen. Even the most careful person can accidentally get a stain on their clothing.
You can spend a small fortune on fancy schmancy stain fighting products. Or you can stick with a tried and true product, one that has been around for a very long time. Chances are your mom and even your grandmother used it – Biz.
You may have seen Biz in the store. The company did change the packaging and updated the logo and color scheme – but it's the same product families have been relying on for ages.
Biz can be used as a pre-wash treatment or with detergent.
Stains come in different forms and from different sources. It's not easy to find one product that can tackle most stains. Biz contains more stain fighting ingredients than other brands. There is no need to go out and purchase multiple products. In addition Biz helps to make whites brighter.
Most of my family's stains come from food, makeup and dirt. Some stains are pet related too. I tend to get grease stains on my clothes from things that splatter on me when I'm cooking. I've even had a coffee and tea stain or two.
I remember my mom using Biz when I was younger. To be honest I haven't tried the brand until now. However after my results I am a new fan of the brand.
Biz sent me a bottle and asked me to take the Biz Challenge by treating some particularly nasty stains my family manged to get on their clothing. That was not a problem. We always have something with a stain on it.
I used Biz two different ways.
I added it in with other detergent to keep my whites white and my brights colorful. So far, so good. I am pleased with the results. The whites were looking a bit dingy lately. They seem to be looking more white (as they should) since adding Biz in the laundry. I haven't noticed too much of a difference with the colored clothes, but that might be because they have already had the color washed out of them several times. Once my kids start wearing their new back to school clothes I'll be better able to judge if the Biz helps to maintain the colors.
I also used Biz to pre-treat stained clothing before putting them in the wash. I would dabble a little on the stain, gently scrub (if necessary) then let it sit for a while before washing it.
I used Biz on a variety of common stains.
One stain was some dark discoloration on a hand towel in the kitchen. I THINK it was from chocolate cookies my daughter baked recently. I tried to wipe it off with a wet paper towel when I first discovered it. It looked like it could be easily wiped off but it didn't come off. After I rubbed a little Biz on it, let it site a bit then tossed it into the wash with the rest of our laundry the area was clean again (and dare I say the white was brighter too).
I also dropped my mascara wand on my shirt last weekend. I tried to wash it off (you can still see the wet spots in the photo) but I only succeeded in smudging it, not cleaning it. You can even see some of the bits from the paper towel I used.
With a little Biz and some gently rubbing the mascara stain came off my shirt in the wash. You can't even notice where it was. With other stain products you can sometimes see a little bit of the stain (or residue) left behind.
I'm not sure why the shirt's color is different, unless it had to do with the lighting (two different rooms, different time of the day).
You can also use Biz to pre-soak delicate clothing. I have not done that yet.
You can find out where to buy Biz as well as save $1 on Biz with a special money saving coupon on the Biz website.
You can also check out the brand on Facebook, on Twitter and on Pinterest.
To see what others have to say about Biz check out the hashtag #BizChallenge. 
Have you ever tried Biz before? If so, what do you think about the product? Why do you love it and use it? Feel free to share your thoughts.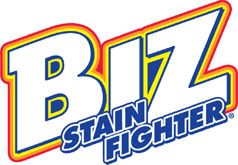 Kimberly
Related Posts: