A million years ago, when I was in 7

th

grade, I took French as my elected foreign language class. I took French for two years and aside from a few words here and there, the only thing I remember is what I learned the very first day of class.

Me: Bonjour
You: Bonjour, Comment êtes–vous?
Me: Je suis fin. Et vous?
You: C'est Comme Ça.

Well, we are talking a million years ago, so the dialogue and spelling might be a bit off.

Learning another language is harder the older you get. Research has shown that the earlier a child can learn a foreign language the easier it is for them to learn it. It's been suggested that foreign language classes should begin in elementary school. I wish that was the case. Where we live the kids don't start a foreign language until 8th grade, which is older then I was when I first took a foreign language. My daughter will be taking Italian in the fall. She has Sign Language as a back up. We tried to push for Spanish figuring that is a handy language to know, but she wanted Italian. Ciò è bello con noi.

Learning another language has also been attributed to other benefits including…

– Intellectual growth and mental development
– Better ear for listening.
– Greater sensitivity to other cultures.
– Enhances understanding and appreciation of their native language.
– Future advantages including a leg up in college and job advancements.

So how do you teach a young child a foreign language when your school doesn't offer something at an early age and you do not know another language fluently? I actually know more Spanish then I do French. When I worked for the phone company I learned a lot of Spanish just from interacting with my customers. I also learned Russian, Japanese, Italian, Portuguese and I have an ear to tell the difference between Mandarin and Cantonese languages. Of course most of what I know only pertains to making phone calls, but it's a start. Spanish I know more then the other languages. I have tired to teach my kids as much as I know and they do know how to count in Spanish and a few other Spanish work and phrases.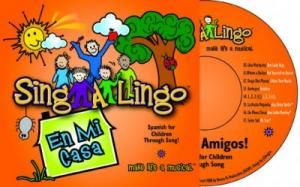 Sing-a-Lingo (
http://www.singalingo.com/
) has created a fun and easy way for children to learn a new language – through song.

Sing-a-Lingo's music CD, En Mi Casa (In My House) contains seventeen songs entirely sung in Spanish. Each song contains many phrases and Spanish words, pronounciated the correct way, that children can find an every day use for. The more you use something, such as a foreign language, the easier it is for you to retain what you learn. If your children can learn everyday Spanish phrases and words through song, and then apply them to their daily lives, they will retain that knowledge.

Some of the phrases and words that children will learn on the Sing-a-Lingo CD include…

– Come outside and play
– I want breakfast.
– How are you?
– I love to hug
– Much more!

Each song is song entirely in Spanish. Included inside the CD are the words to each song both in Spanish and in English. That way parents can learn new words and phrases right along with their child. The songs are easy to sing along with and many of the lines are repeated several times (repetition helps you to learn too).

The songs on the CD are fun. They are not "obnoxious" like some children's songs can be, especially after you had has to listen to them several times over and over again. I would say the songs are good for children 3-7, but a younger or older child might enjoy it as well.

My son is older then the age this CD is appropriate for. I had him listen to it several times. He was able to pick up how to say many things because he followed along with the lyrics and was able to read the English translation. He was able to "hear" how things were pronounced in Spanish and "read" what the words were in English.

I really wanted to try this out with my three year old nephew but I haven't seen him since his birthday (I received the CD after his birthday) and I won't see him again for a couple of more weeks. So my son ended up as my "tester".

I think this is a fun idea and a great way for young children to learn a language quickly and easily.

The CD sells for $14.99 (plus shipping) or $9.99 for an instant download. Also available are other learning tools to help aid with learning Spanish including some fun "Say n' Stick" word notes.

Here is a video of one of the Sing-a-Lingo songs. Those of you on RSS or E-mail can see the video here,
http://www.youtube.com/watch?v=KQSJxtbZgxs
, or on the
Sing-a-Lingo
web site.

*I received a free sample copy of the CD. There was no other compensation. The opinion expressed is my own.