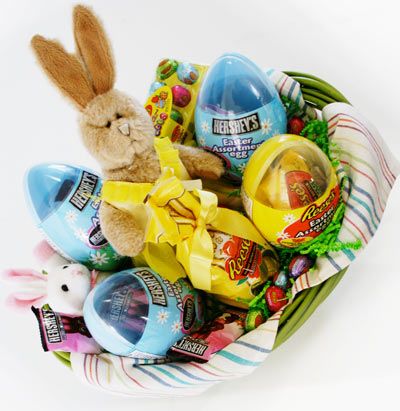 I have a weakness. OK, I have several. I LOVE pizza, pasta, coffee and chocolate. Any kind of chocolate. I ♥ Chocolate! Sweet and creamy chocolate that melts in your mouth. Mmm… Yummy!

There are a few times during the course of the year that you'll find a lot of chocolate candies on the shelves including Halloween, Valentines Day and Easter. I can't even walk into any store without being greeted by all my favorite candies.

A million years ago, when I was about 8 or 9 years old, my Mom, or shall I say the "Easter Bunny", gave me an Easter basket made out of chocolate. It was solid chocolate, including the handle. To make it even better it was FILLED with Jelly Beans and MORE chocolate candies. I was in "Chocolate Heaven".

Sadly I went to move the basket to the playroom downstairs and tripped on the stairs causing me to drop the basket. It shattered into a hundred pieces (or so it would seem). I was devastated! My heavenly chocolate basket was gone before I had a chance to enjoy it.

Hershey's must have sensed my weakness for delicious chocolate because they sent me some of their Easter goodies to try out. OH MY! You would have thought my family was a pack of Hyenas who just stumbled across a fresh kill. LOL! Once they got an eye full of the Easter treats it was every man for himself.

One of my most favorite Hershey's candies are Reese's Peanut Buttercups. If I was asked what I wanted for my last meal it would be a 7 course meal of Reese's Peanut Buttercups. They are one of my biggest weakness. Even after my kids are done Trick or Treating for Halloween I swipe all the Reese's Peanut Buttercups.

This Easter season Hershey's is offering Reese's Milk Chocolate Peanut Butter Eggs (egg shaped Reese's Peanut Buttercups). They are the perfect size if you want to indulge in the creamy goodness of a Reese's Peanut Buttercup. They are not too big and not too small. I love that they are individually packaged too. Each bag contains about 30 Peanut Butter Eggs, enough to pass out to classmates (just make sure there are no peanut allergies) or to hand out to family and friends. They can also fit inside plastic Easter eggs to be used for an egg hunt.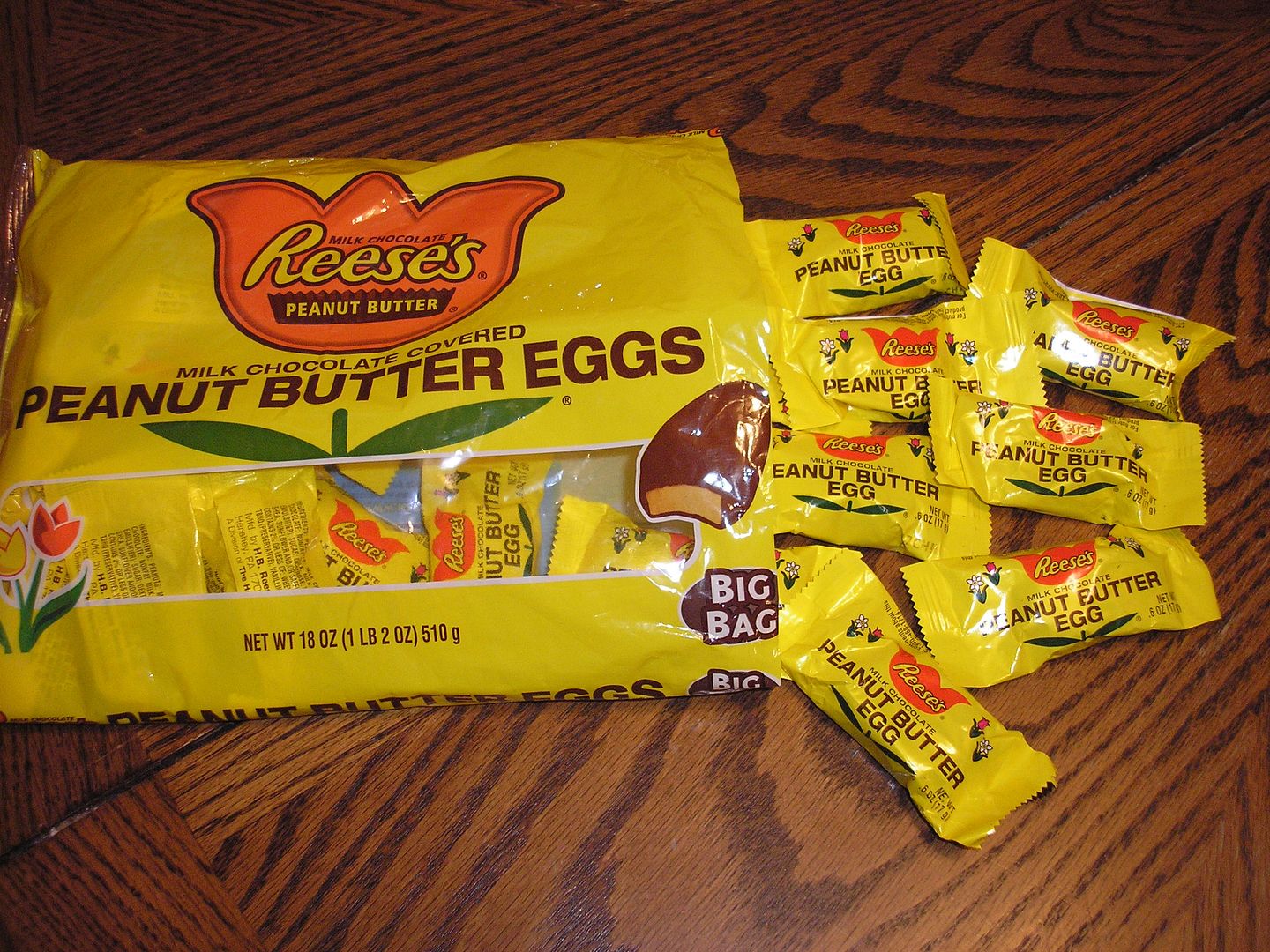 I had to have my husband hide these from me. Seriously. I ♥ them!

Something new from Hershey's that I've never tried before are the Cookies N' Cream chocolate eggs. These are really interesting. I have never seen these before.

At first sight they look different because they are a creamy white color with little specs of chocolate mixed in. My kids each tried one and they were both instantly hooked. They begged me for more.
I tried the Cookies N' Cream chocolate eggs too. They are very creamy. More so then regular chocolate. They are also very rich in flavor. Once egg can really help satisfy your sweet tooth.
Another fun Easter treat from Hershey are the individually packaged Hershey's Kisses. Each individual package contains three Hershey's Kisses wrapped in festive pastel colored foils. There are only about 17 packages per bag. These would also be ideal to hand out in a classroom, but you might need two packages since most classes rooms have more children. Again, please be careful of any peanut allergies.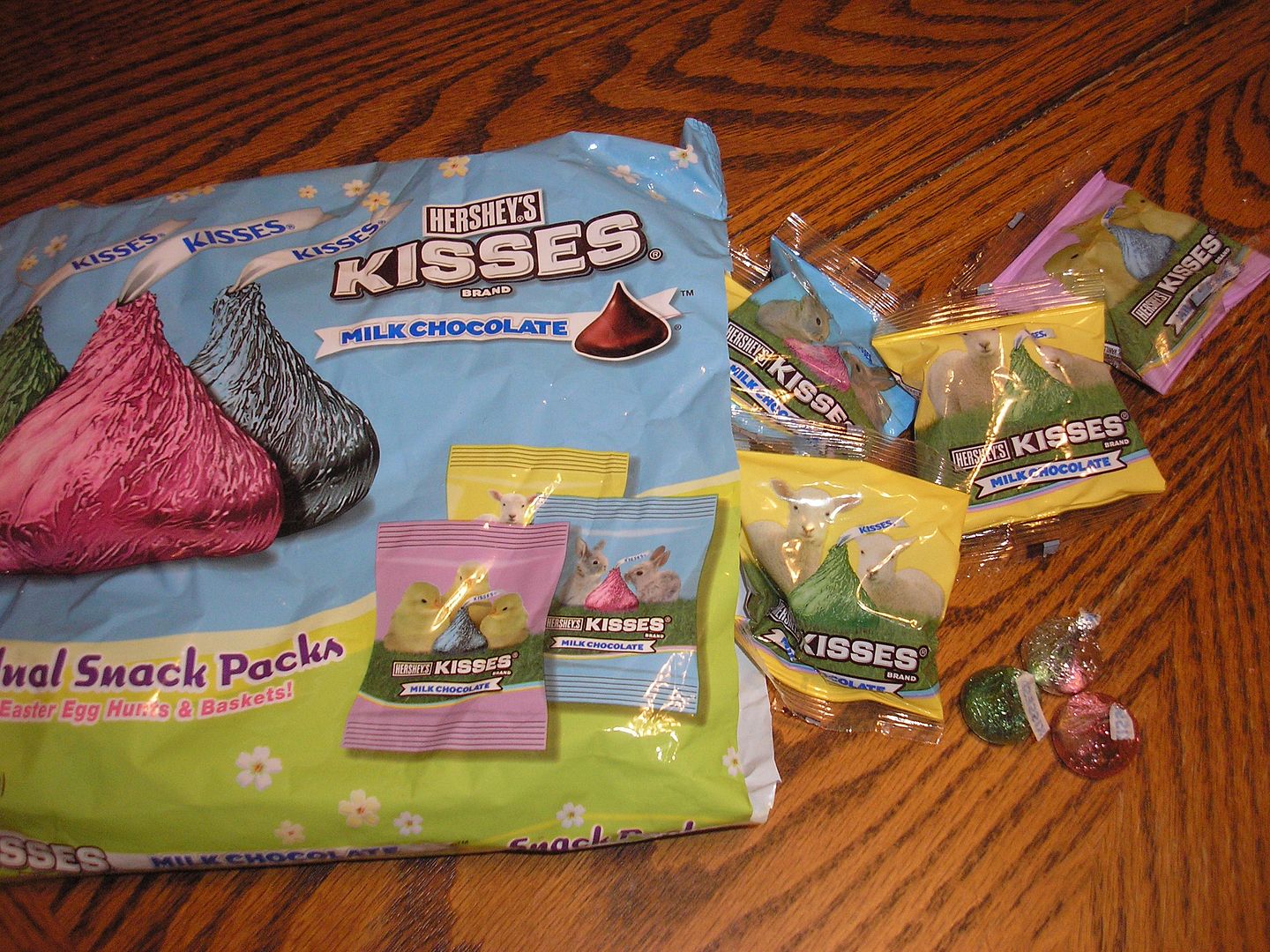 I like these little packages. I think these would be great to toss into my kid's lunchboxes. I would consider them a sweet "kiss" from their Mom.

I've never met anyone who DIDN'T like Hershey's Kisses.

I also LOVE the super creamy chocolate Easter Bunnies with the melt away centers. These truly do melt in your mouth. These are almost too good for the kids. They are made with Bliss chocolate. If you've never tried Bliss chocolate before you are missing out on something "Scrumdelicious" (to quote Willie Wonka).

I think I'll reserve the remaining two for me and my husband. Then again, I doubt they will make it through the weekend. Ha Ha.
Hershey's also has a really fun web site that is worth checking out. It's called Keep Easter Easy, www.KeepEasterEasy.com. There you will find the most delicious recipes. My favorites are the adorable Easter Bonnet cookies and the funny Peanut Butter Bunnycakes.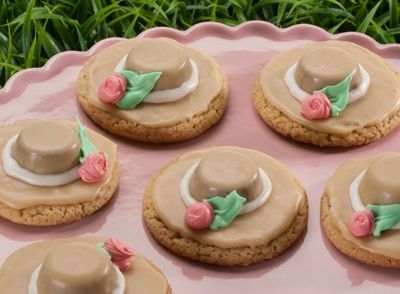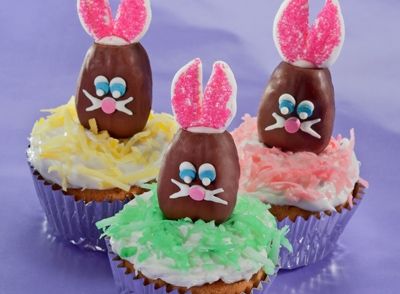 Did you know that you can use Hershey's candies to make unique Easter crafts too? Check out this colorful wreath made from Whoppers candies.

You can also make a wreath out of the foiled chocolate eggs too.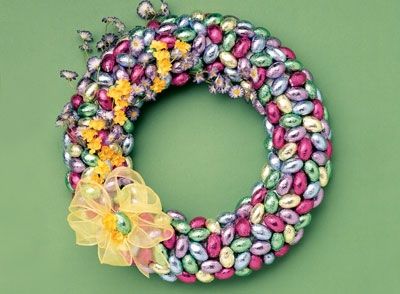 I adore this floral bouquet made out of Hershey's candies. This would make a beautiful centerpiece at your holiday table. Or you could present this lovely arrangement as a gift for someone special.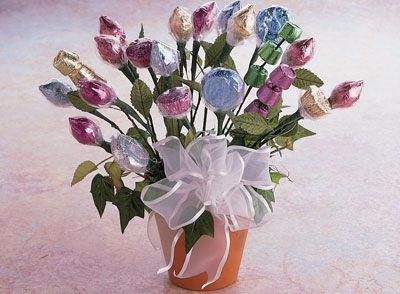 There are also some really unique Easter basket ideas on the web site too. My favorite is the Dump Truck Easter Basket.

You can learn more about all the Hershey's Easter products on their Keep Easter Easy site. I learned that they have Easter Rollos. Oh! Those are really good. I was just at Target earlier today. I saw most of the candies but not the Rollos. I'll have to keep an eye out for those.
Did you know that Hershey's puts out the Cadbury Eggs too? They are SO GOOD! Very sweet (almost too sweet) and very ooey gooey but so good! I love the commercials with the cat wearing bunny ears and the special "meow" that he does.

There is still time before the Easter holiday. Why not pick up some Hershey's Easter candies and put together a fun craft or recipe with your family?

For more information about Hershey's visit www.Hersheys.com. If you are a blogger you should check out the Build a Better Basket campaign and find out how you can help raise money for a children's charity. http://betterbasket.info.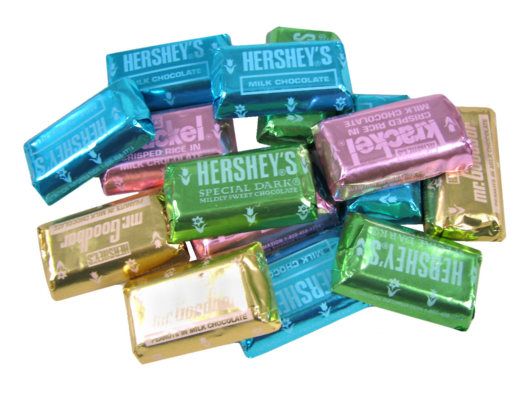 *Hershey's sent me some free samples to do this review. There was no other compensation. The opinions expressed are my own.