Jizo

?

Chibi

? What in the world are those? Is it an exotic food? Is it a new music group? Or perhaps it's a funky new dance move?
Jizo

&

Chibi

are a line of jewelry that has a very special meaning behind them.
Valerie Johns first encountered

Jizo

on

Miyajima

Island, just off Hiroshima, Japan. The

Jizo

was a charming little statue that was found in a garden on the island. A tour guide told her that the statue was

Jizo

who is the protector of children: healthy, sick, unborn, and never born.
Chibi

is a Japanese word used to describe a "small child". The idea behind the

Chibi

jewelry is to help the wearer to reconnect with their inner child.
Both are available in adorable jewelry from

Jizo

&

Chibi

(
www.JizoandChibi.com
).
Jizo

is available in gold or silver and with or without a pearl (to light up the darkness of people's suffering) or a small sapphire (said to bring protection to the wearer, opening one to joy along the journey).
I received two

Chibi

necklaces to do this review. One for an adult and one for a child (my daughter). The

Chibi

necklace features a little person shaped figure (he sort of reminds me of a Gingerbread man).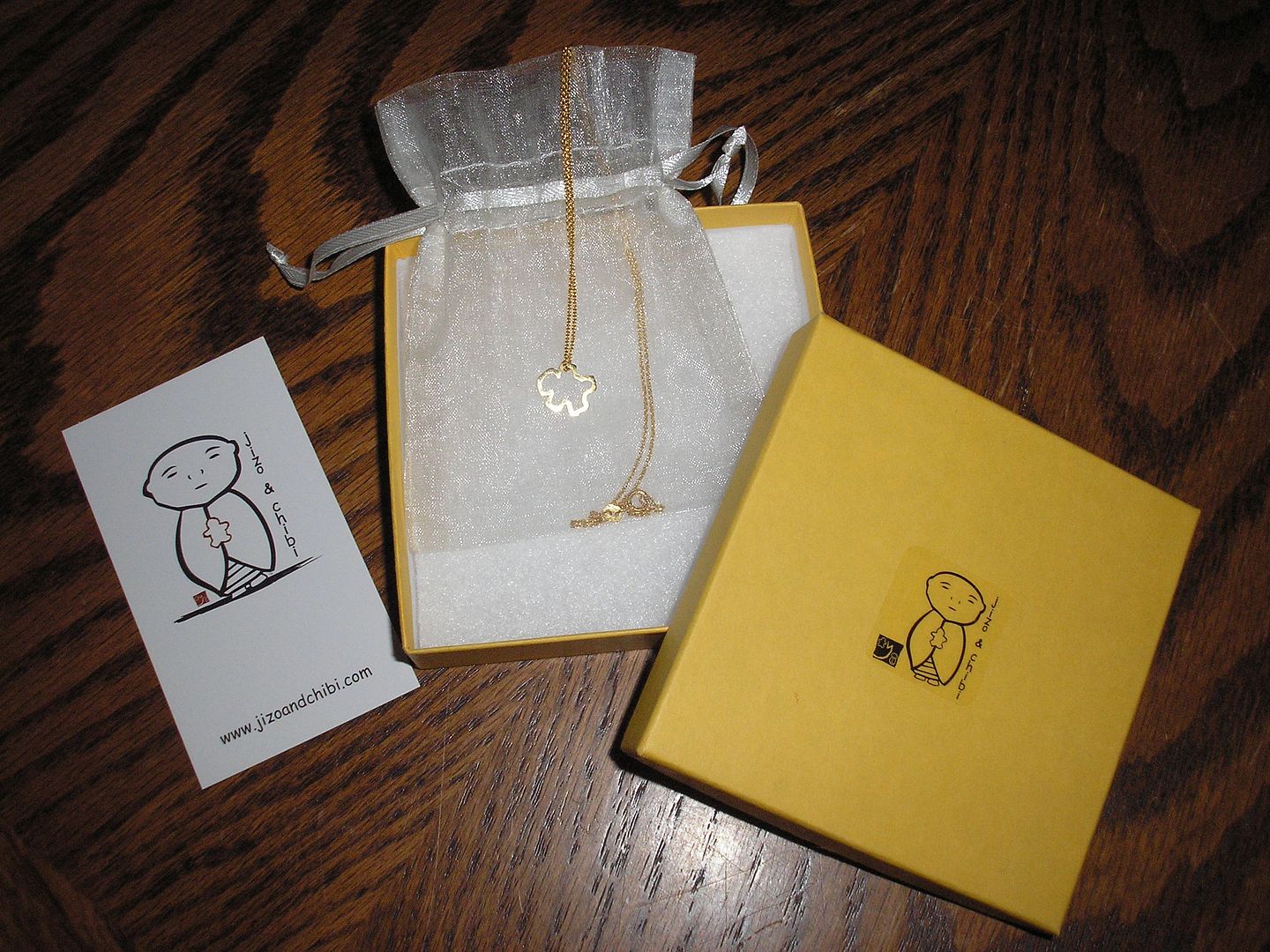 What I really like about this necklace charm is that it moves around all day long. It's rather amusing and entertaining. Sometimes I'll look in the mirror and see

Chibi

dandling by one of his feet. Other times I'll see him holding on to the chain with his "hand". I've also seen him upright and upside down. He's very "flighty" and "fickle", just like a small child. He can't make up his mind how he wants to rest on your neck.
Our

Chibis

arrived in their own boxes, gently resting inside a small organza pouch.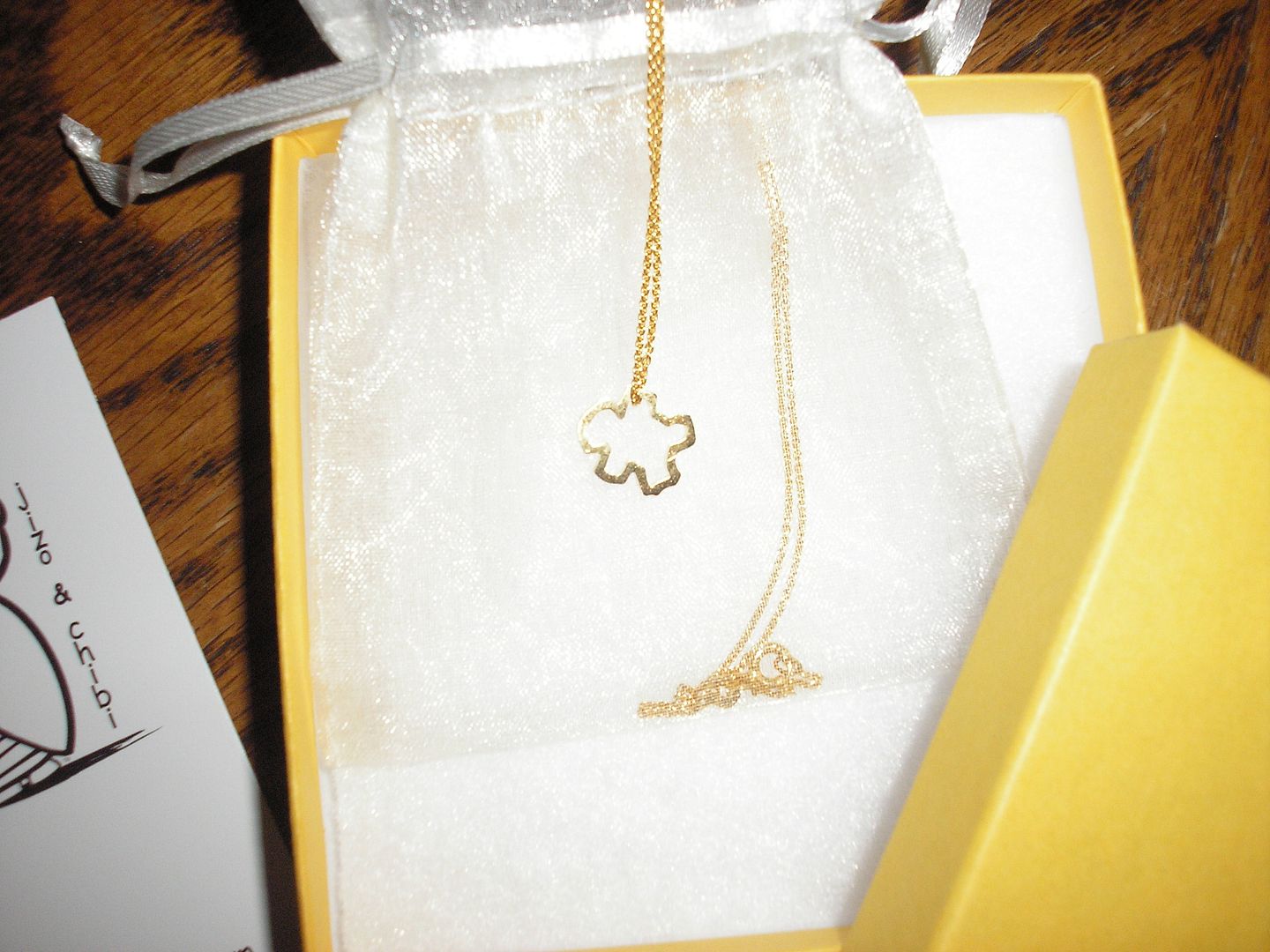 Chibi

is available in two sizes, adult size and children's size. I gave my daughter the child size one and she's worn it pretty much ever day since I gave it to her, except on days she has a Track meet (they are not allowed to wear any jewelry). My daughter loves it. She tells me that her f

riends

are often playing with it, rotating the

Chibi

around to make him stand upright or in other positions. My daughter tells me that she does the same thing I do, she looks to see how

Chibi

is hanging on whenever she looks in the mirror.
The necklaces are very dainty and the chains are very thin and light weight. I was

concerned

that my daughter might break it or get it caught in her hair, but so far, so good. I take my necklace off at night and hang it from a necklace hook in my jewelry case to make sure it doesn't get a knot in it.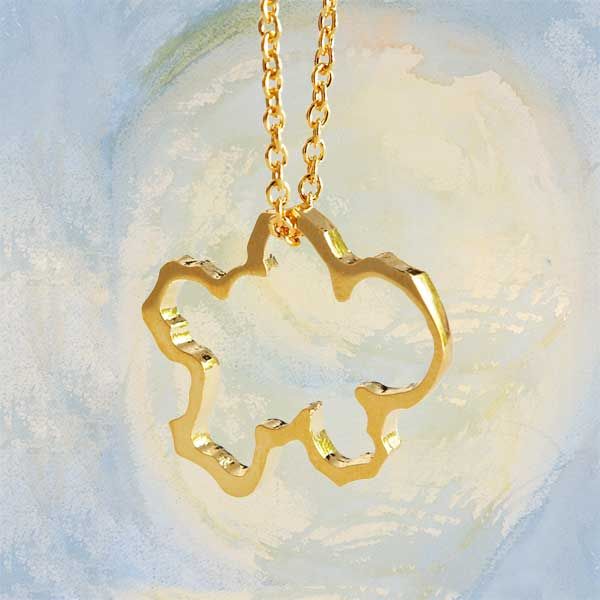 These necklaces (both

Chibi

and

Jizo

) would make very unique gifts. I think this would make a sweet gift for a Mom-to-Be at a baby shower, or a new Mom. The child size necklace would work well on a very young child too (providing they can take care not to pull on it).
For more information about

Jizo

and

Chibi

jewerly

and to learn more about the company and other products they offer please visit
www.JizoandChibi.com
.
Jizo

&

Chibi

are having a sale.

Receive

25% off purchases using the code

BUDDHABDAY

upon checkout.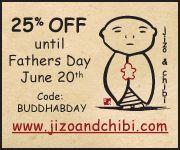 *I received free product samples in order to do this review. There was no other compensation. The

opinions

expressed are my own.