Now available on Blu-ray, 4K, and DVD (currently available on digital) is the fun "monsterpocalypse" film, Love and Monsters. 
Love and Monsters stars Dylan O'Brian, Jessica Henwick, Michael Rooker, and Ariana Greenblatt.
Don't let the title fool you, this is not a horror movie, per say. Some could say it is, but honestly, the monsters are not that scary. In fact, I find them rather amusing.
Joel (O'Brian) and Aimee (Henwick) are teenage lovers, enjoying the best summer of their lives together. During this time, a meteorite is heading towards Earth. To eradicate the threat of it crashing into Earth, missiles were deployed to blow it up. The problem is the chemicals inside the missiles came down on Earth, causing creatures to mutate and turn into giant monsters.
Joe and Aimee were forced apart when their families fled to find safety. Joel promised Aimee that he would find her and she told him that she hoped so.
Fast forward seven years later. Joel lost both his parents and lives in an underground bunker with a few other survivors. For years he's been looking for Aimee on the radio, finding her living with survivors almost a hundred miles away.
Joel is not exactly a brave person. He tends to freeze up when he's frightened, which is not a good thing when you are faced with deadly monsters looking to make you their next meal. For that reason, Joel stays behind when the others go on food searches, and has turned into the cook of the group.
Joel feels alone, especially seeing people in his group pairing up. Not wanting to be alone for the rest of his life, Joel makes the crazy decision to make the trip to Aimee's camp so that he can be with her, the love of his life.
Joel's fellow survivors in the bunker try to discourage him because they know he has no survival skills and he's terrified of the monsters, but he won't be swayed. He's made up his mind. He's going to make the long journey, alone, in a world full of giant monsters, to be with the love of his life.
On the surface, Joel meets some other survivors and teach him some lessons on how to survive in a world of monsters. He also befriends a dog named "Boy."
Will Joel survive the journey and find Aimee? Will he even survive the perilous journey? To find out, you need to pick up a copy of Love and Monsters, or rent it. Look for it where ever movies are sold/rented.
This film is billed as an action, adventure and comedy film. Like I said earlier in this post, don't let the word "monsters" in the title fool you.
The film is rated PG-13. I honestly don't know why. There is no nudity, and the sexual innuendos are very brief (two people fooling around in a near by bed). I don't even recall any curse words. I guess the "monsters" bumped the film up to PG-13 from a regular PG.
This movie seems like it was made just for O'Brien. He was the perfect Joel. I cannot think of another actor that could have done a better job.
O'Brien is sweet and loveable, and he plays being scared perfectly. He's also cute (wink wink).
I loved seeing Rooker in the film. I'm using to seeing him as "Merle" in The Walking Dead, It's nice seeing him in other roles, so that he's not type-cast. It was also interesting seeing him with hair.
Little Ariana Greenblatt was a treat to watch in this film. I have a feeling we'll be seeing a lot more of this young actress. She already played another fabulous role as young Gamora in Avengers: Affinity War. She was also in the film, The One and Only Ivan (which is cute movie, I recommend it).
This is a really fun movie. In fact, I think I enjoyed it even more the second time I watched it (yes, I watched it two nights in a row).
The special effects in this film are awesome. The monsters are very creative and executed perfectly in this film. You would think they were real! Thankfully, they are not.
In honor of the film's release on Blu-ray and DVD, I have some fun coloring pages you can download and print out to enjoy with your family.
Click on the image (below) to download the .PDF file. If that doesn't work, you can also print the coloring pages directly here – http://bit.ly/LoveAndMonstersColoringSheetsHE.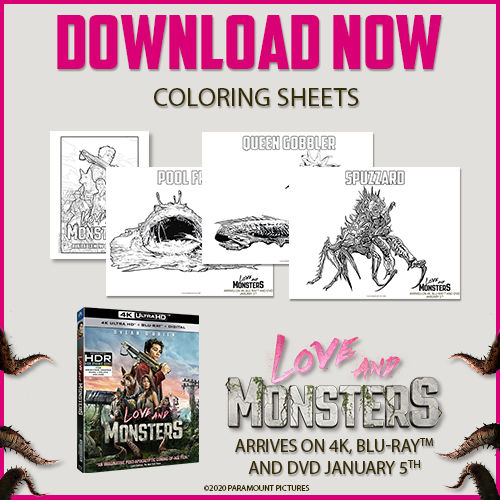 I could not find any social media accounts for the film, but the official hashtag is
#LoveandMonsters
.
Below is the film's trailer for your enjoyment.
Kimberly
*I received a free screener to review. There was no compensation. The opinions expressed are my own and not influenced in any way.