The world is a crazy place to live in these days. Some days I just want to close the curtains, get snuggly on the couch and pop in a good movie that will take my mind off of current events. Ideally I'd love to be whisked off to some far off land (a tropical island perhaps?). However, an hour or two in a fairytale will also do.
Speaking of fairytales, there is a new, animated film that is now available on Blu-ray, DVD and on digital. It's called Red Shoes and the Seven Dwarfs. 
The film stars the voice talents of Chloë Grace Moretz, Sam Claflin, Gina Gershon, Jim Rash and Patrick Warburton, to name a few.
Red Shoes and the Seven Dwarfs is a computer animated film produced by the Locus Corporation. It is loosely based off the Danish Fairy Tale, The Red Shoes. In fact, it's a good mix of that fairy tale and Snow White and the Seven Dwarfs. 
Snow White (Moretz) lives with her evil step-mother Regina (Gershon). Snow White's father married Regina before he knew she was an evil witch. Now her father has gone missing, and she knows that Regina has something to do with it.
Snow White is a beautiful girl, but she is a bit overweight (sadly, that makes a difference in the movie).
Regina is aging rapidly. The only way she can restore her youth is to place a magical pair of red shoes on her feet. The shoes grow off a special tree, similar to an apple.
One night, as Snow White was trying to search for her father, she stumbled across the red shoes. She was drawn to them and eventually putting them on her feet. Magically the shoes turned her into a beautiful girl.
Regina appears and tries to get the shoes back from Snow White, but she was able to escape on one of Regina's magical brooms.
Snow White crash lands at the home of seven dwarfs. The dwarfs weren't always little green men. They used to be known as the Magnificent Seven – Merlin, Arthur, Jack, Hans, and triplets Pino, Noki and Kio. Sadly, a curse changed them from humans to dwarfs, placed on them by another witch. The only way to break the spell is the be kissed by the most beautiful girl in the world. But who would want to kiss an ugly, little green dwarf?
When the dwarfs stumble upon Snow White, they were enchanted by her beauty. They knew she was the one that could break the spell. All they needed to do was get her to kiss them.
Snow White was reluctant to tell them who she really was, so she told them that her name was Red Shoes.
The dwarfs agree to help Red Shoes find her father, all in hopes that they could win her heart so she'd kiss them and they can return to their human selves.
Will Red Shoes find her father before it's too late? Will Red Shoes reveal who she really is to her new friends? WIll any of the dwarfs get kissed by Red Shoes to break the spell? To find out you need to purchase or rent Red Shoes and the Seven Dwarfs. Look for it where ever movies are sold/rented.
I really enjoyed this film. It caught my attention from the very beginning. Sometimes films are slow to start, but this film hooked me in right away.
The animation is spectacular. From the fine details on all the characters, to the realistic looking scenery. The animation is top notch.
I found all of the characters very likeable. Of course my favorite was Snow White (I preferred her over her Red Shoes character).
The only issue I have with this film is the whole weight/looks story line. Snow White is a little bit chubby, but she's still incredibly adorable. She enjoys the attention she gets being Red Shoes. As an obese person, I think she should have learned to love herself as she truly is, and not the make believe character Red Shoes.
There was also an incident in the film where her weight kind of turned off one of the characters. I don't want to give away the story line, but that part didn't sit well with me. In the end it worked out fine, but I wish they could have put a more positive spin on the fact that how you look doesn't effect who you are as a person (in the end it felt that way, but there were parts of the film it did not – if that makes sense?).
The film is funny, and I'm sure both parents and children will find plenty of parts to laugh at. The way the dwarfs fawn all over Red Shoes is funny. I also think the character Prince Average (Av-er-RAJ) is funny too.
There is action and adventure in this film, which is why I think both girls and boys will enjoy this. Just because it's about a princess, does not mean it's a "girly" film.
I ended up watching the digital version of the film, but there are bonus features on the Blu-ray.
"The Making of Red Shoes and the Seven Dwarfs" Featurette
"From Storyboard to Animation: Creating Red Shoes and the Seven Dwarfs" Featurette
"Start of Something Right" Music Video
"Something So Beautiful" Music Video
I loved the music in this film. I especially like "Start of Something Right." I would definitely put that on my Spotify playlist (both songs actually).
The film has a run time of 92 minutes and is rate PG for some of the action sequences.
Below are some fun activities you can enjoy while you watch the film. One is a cute craft project (I might make this with my "work kids"), and the other is a yummy recipe.
Click on this link for the recipe – http://bit.ly/RedShoesApplePieRecipe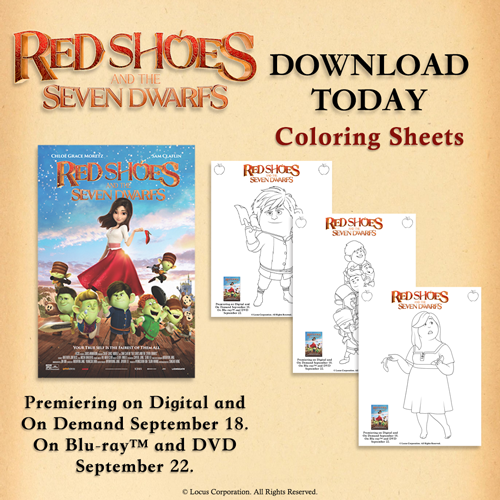 Click on the above image to get the directions for the cute craft project.
Below is the film's trailer for your enjoyment.
Since Snow White is a "wanted" criminal for "stealing" the red shoes, Prince Average put out "Wanted" posters to capture her. As a special treat, a "Wanted" poster was made in my image. I love it!
Kimberly
*I received a free screener copy to review. There was no compensation. The opinions expressed are my own and not influenced in any way.