Last year I did a review for a product line called
Go Picnic
. They are healthy boxed lunches which come with some interesting products that I have never tasted before. One of those products was a package of Nutella. The Go Picnic box I had to review came with a croissant and a package of Nutella (among other things). I squeezed some Nutella on the croissant and I was immediately in love with Nutella. The combination (Nutells & croissant) tasted like a chocolate frosted donut. Mmmm! Good! Since then I have been in love with Nutella.
– Nutella contains simple quality ingredients, including roasted hazelnuts, skim milk and a hint of cocoa.
– There are more than 50 hazelnuts in every jar of Nutella.
– Nutella hazelnut spread does not contain any artificial colors or preservatives.
– It does not contain peanuts or peanut ingredients, nor does the product come in contact with peanuts during manufacturing.
Nutella is made by the same company that brings you Ferrero Rocher candy. Have you ever tried those before? Oh! They are SO GOOD!
One of the easiest ways to enjoy Nutella is on bread. Are you having a hard time getting your children (or spouse) to eat whole wheat and whole grain breads? Add some Nutella spread to the bread and your children are sure to gobble it up and not even realized they just ate "good for you" healthy bread. It also goes great on whole wheat English Muffins, Bagels and Waffles too.
You and utilize Nutella in a variety of breakfasts for your family. Here are a few recipes I found around the Internet. Please click on the recipe to visit the site to learn more.
Even the
Food Network
recognizes this tasty delight. How about some
Banana Nutella Crepes
or some
Grilled Pineapple with Nutella
.
If you have never tried Nutella before it reminds me of a thick chocolate frosting. Even though it's made with Hazel nuts, to me it tastes more chocolate then nutty. My favorite way to eat Nutella is on toast. A slice of rye or whole wheat bread with a layer of Nutella on it is enough to satisfy my hunger and sweet tooth all at the same time.
My kids love to dip pretzels in Nutella. I took it one step further and purchased those big NYC style frozen pretzels, warmed them up and served them with a little Nutella to dip them in. We tried to spread Nutella on top but the warm pretzel melts it and makes a mess.
Hazel nuts (Nutella is made from them) are good for you. Hazel nuts have been found to contain:
– Antioxidants
– Fiber
– Heart-healthy monounsaturated and polyunsaturated fats
– Protein
– Vitamins
– Are low in saturated fat
– An excellent source of vitamin E, folate, calcium, and potassium
A Hazel nut spread on a piece of whole wheat bread would make for a very satisfying and healthy snack option. You can even make a Nutella sandwich for lunch.
If you haven't tried Nutella yet I would recommend that you do. But be forewarned… you are going to love it so much you are going to come up with creative ways to eat it. Don't be surprised if you catch yourself eating it right out of the jar.

Ferrero, makers of Nutella, would like to award a lucky She Scribes reader with one one, not two but THREE JARS of Nutella!
To enter please comment on why you want to try Nutella (if you haven't already tried it) – OR – if you already use Nutella please comment on your favorite way to eat it or perhaps some tasty recipe you use Nutella in.
For extra entries you can do any or all of the following. Please let a separate comment for each that you have done. Extra entries are optional.
– Subscribe and/or Follow She Scribes so that you never miss out on great giveaways. Both options are found abou 1/3 of the way down on the right side bar. I ♥ my subscribers & followers.
– Blog about this tasty giveaway and please link back to this post. Please provide the URL of the post.
– Tweet about this yummy giveaway and please include @She_Scribes in the tweet so I may see it too. Please limit this to no more then three tweets per day, spaced apart (not one right after the other). Thanks!
– Promote this giveaway in other ways such as Stumble Upon and/or Technorati (there are others). Please tell me what you did and if possible provide a URL or name.
This giveaway is open to US residents only (sorry) and will end on June 22, 2010 at 11:59 PM (EST). The winner will be chosen at random using a random number generator from all eligible entries. The winner will be contacted by e-mail and will have three days to reply with a name and mailing address or a new winner will be chosen.
Don't forget to become a fan of She Scribes on Facebook (CLICK HERE) and check out the other giveaways currently available on the right side bar under "Win It".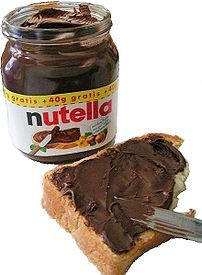 *I did not receive any samples, nor was I compensated for this post in any way. I posted this for the enjoyment of my readers. Any opinions expressed are my own.