Summer may be over (although you wouldn't know it with the weather we've been having here in New York), but that doesn't mean that vacation time is over. For Drac, Mavis, Johnny, Dennis and all their friends, their vacation has just started.
Available today (October 9, 2018) on Blu-ray, DVD and on digital is the latest installment in the popular movie franchise, Hotel Transylvania, appropriately titled Hotel Transylvania 3.
All of the beloved characters are back, including Murray, Frankenstein, Wayne and Griffin. There are also a slew of new characters such as Van Helsing, Ericka, Crystal and Tinkles the dog, to name a few.
My family and I have been big fans of the franchise ever since the original film. We adore the characters.
Even though we've seen the two previous films numerous times, we still laugh when we watch them.
Hotel Transylvania 3 picks up where the other films left off.
Life is great at the hotel. Mavis and Johnny work at the hotel, along side Drac. Even Drac's father resides in the hotel.
Unbeknownst to Drac's family and friends, he is very lonely. He only had one true "zing" (love) in his life, and that was Mavis' mom. Everyone at the hotel seems to have someone, but Drac.
Mavis senses that her father is down, but she feels as though it's because he works so hard (she doesn't know he's really lonely). To life her father's spirit, Mavis books a vacation for him and the rest of their family and friends on a cruise ship.
There are plenty of fun and adventurous things that happen on the ship, but the biggest thing is that Drac met the ship's captain, Ericka, and has "zinged" with her. The problem is that Ericka is hiding a huge secret from him and the rest of the ship's guests. She also has a plan for Drac's demise.
Drac also wants to hide the fact that he "zinged" with Captain Ericka from Mavis because he doesn't want Mavis to think that he doesn't love her or her mom (he does!). He just can't help how he feels. It's a monster thing.
What is Ericka's secret? Why is she trying to kill Drac? To find out you need to pick up a copy of Hotel Transylvania 3. Look for it where ever movies are sold. You can also download or rent the film digitally.
I received a copy of the movie free to review. I also received a fun box – actually a COFFIN – filled with fun goodies to help make my family's movie watching experience super fun.
The box is HUGE. I love how the movie studio created the coffin shaped box to go along with the film's main character, Drac.
I felt like a little kid on Christmas morning going through the box. It was filled with Hotel Transylvania 3 crafts, activities and more.
Inside the box there was super cute character figurines from the Hotel Transylvania movie franchise. My favorite is the Wayne (the werewolf) plush toy. He even has an "exhausted" look on his face, after all, him and his wife Wanda have about 100 pups to take care of. LOL! In the new film they do get a much needed break from them.
Inside the box were several little purple trunks. Each one contained a Hotel Transylvania 3 character and a "key." The key can be used to open the trunk. You can also collect them.
Inside the trunk is a small character figurine. The new character, Ericka, is seen in the above photo. I didn't open up the other trunks I received because I want to use them as prizes for the kids I work with. The would also make great stocking stuffers. Children love collectibles.
Also inside the box was some branded microwave popcorn. After all, what's a movie without popcorn?
Speaking of popcorn and watching movies, Hotel Transylvania 3 would make for a GREAT family movie night movie. It would also be great for a child's sleepover.
Included on the Blu-ray copy of the film are some fun crafts and activities you can do for a sleepover. Some of the projects include a Frankenstein pillow (no sew) which I think is ADORABLE! I plan on making one to use as a Halloween decoration. I think the project can be altered a bit to make other characters from the film. I'm looking forward to giving that a try.
Another fun project idea is how to make a Murray lantern. It's a quick, easy and inexpensive craft.
All you need to make this is some white paper streamer paper (or gauze or even toilet paper), glue or tape, googly eyes, a small container and a "fake" tealight (you can find the battery operated tealights at the dollar stores or craft stores).
I did received most of the items necessary to make a Murray lantern (except tape and glue). Sadly, our tealight didn't work. I also haven't had a chance to go out and buy more. The next time I am near a store that sells them I am going to buy one.
This is a fun craft to do with a group of children, including scouts and classrooms. You can even use a marker to make a mouth and eyebrows on the mummy too.
Another fun project you can do in honor of the film's release is to make character pumpkins using Hotel Transylvania 3 stencils.
I received several stencils (not all are pictured) as well as a pumpkin carving kit.
We didn't carve any pumpkins using the stencils (yet). It's been very warm and humid here in New York and in the past, when we carve pumpkins too soon they are dead and decayed before Halloween. So we're holding off for another week and a half before we purchase and carve pumpkins. I'd love to carve the Murray one.
Here are all the stencils that you can download and enjoy with your family.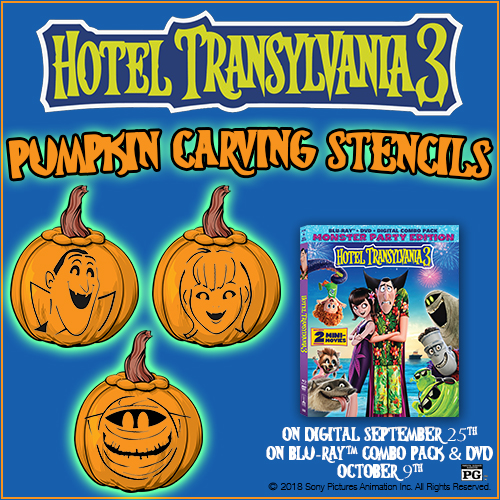 Another craft that is so easy to make is a Dracula drinking straw. All you need is a paper straw (you can use a plastic one too if you want), red construction paper, white construction paper and some glue (we used a glue stick).
We did have Pom juice which would have worked great with the straw (it's a blood red juice), but my kids drank it all before I could take a photo with it.
By the way… it's a fuzzy rat holding the straw in the photo (below). The flash washed it out a bit.
Halloween is coming up. Are your kids/grandchildren going to dress up as a Hotel Transylvania 3 character? I know there are several costumes available. I've seen some at Spirit Halloween (the Frankenstein one cracks me up).
I was sent a Mavis costume to review. Sadly, it didn't fit my daughter (it's for a small child).
It's OK though. I can donate the costume to a child in need. I would certainly not let this fun costume go to waste.
I love that it includes both the wings and the cape. The ear headband is also cute.
What Halloween (or fun "spooky" movie) would be complete without vampire inspired make up?
I did a bad job with the lipstick. I have no lips! Age has taken away from my lips (they shrunk!). But that's another post. LOL! I also need to color my hair again (the white/silver has taken over!).
You can find a tutorial on how to do Mavis and Drac's make up on the Blu-ray version of the film (I didn't check the digital or DVD version yet).
The Blu-ray, DVD and digital combo pack of Hotel Transylvania 3 comes with a set of virtual reality "glasses" and an accompanying book that helps to bring the film to life. This set is available only at Walmart.
We tried it out and none of us could get over how awesome it was to see Drac dancing on our coffee table, and watch fireworks exploding all around.
When you use the glasses you feel like you are in the movie.
I tried to take a photos with the virtual reality glasses, but they didn't turn out that well. Here is just a sneak peek at what you can see wearing them. They are also for smaller heads (child size). If you wear glasses it can be a bit of a challenge too.
There are A LOT of bonus features including two delightful mini-movies – Puppy! and Goodnight Mr. Foot. Puppy gives you the backstory as to how Dennis got his beloved puppy, Tinkles, that is featured in the new movie.
In addition there are plenty of bonus features including the crafts/activities mentioned above (including how to make your own shuffleboard game), sing-a-longs, dance-a-longs, a music video and so much more.
Included in the package I received were the words to the sing-a-long songs.
Overall we loved in the film. In fact, we have seen it twice (my husband and I – our kids were not home the second time we watched it). It's really funny.
My daughter wants me to find out of there is a Tinkles plus toy because she wants one (I don't see any at this time).
This is a great film to watch as a family. Even adults will find this film a lot of fun.
Look for Hotel Transylvania 3 where ever movies are sold.
Below is some more fun goodies I thought you might like.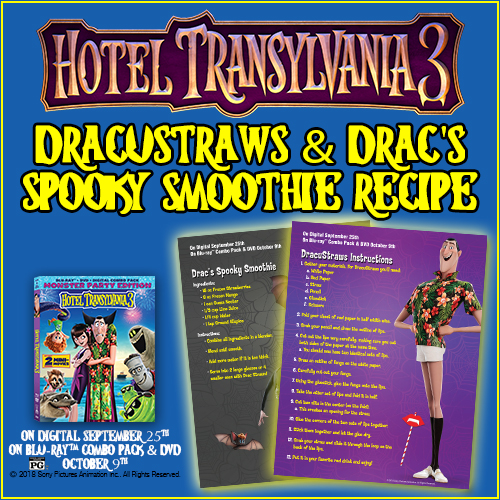 Kimberly
*I received a free copy of the film and other goodies in exchange for my honest review. There was no compensation. The opinions expressed are my own and not influenced in any way.