Get ready to put your dancing shoes on because Trolls World Tour is available TODAY on Blu-ray, Ultra 4K and DVD (it's been available on Digital for a while).
Trolls World Tour is a sequel to the original Trolls film. It reprises the roles of Poppy (Anna Kendrick) and Branch (Justine Timberlake) and introduces many new characters and "troll worlds."
There are a lot of other celebrities that lend their voices to characters in Trolls World Tour including Rachel Bloom, James Cordon, Kelly Clarkson, Sam Rockwell, George Clinton, Mary J. Blige, Kenan Thompson, Kunal Nayyar, and Ron Fuches to name a few.
In this film, Poppy and Branch learn that they are not the only trolls around. Once upon a time, a long time ago, different troll tribes, who each played a different kind of music, were each given a special string from a magical harp which game them their magical powers. The trolls divided up into different groups – Pop, Funk, Country, Techno, Classical and Rock. Each group of trolls enjoyed that specific genre of music.
Unbeknownst to them at the time, and evil troll, Queen Barb from the Rock trolls, invades the techno trolls to steal their string and turning music into nothing (just sounds, not actual music) and the trolls into "rock zombies."
Poppy, with the help of Branch and a new friend, travel to the different troll lands in hopes of uniting everyone to stop Queen Barb before she can gather all of the strings, making her impossible to stop.  Trying to reason with Queen Barb didn't help, so uniting the troll lands, despite their musical differences, is their only option.
It's a race against time, as well as the evil Queen Barb, to help save their beloved music. Will they succeed, or will Queen Barb destroy all of their music once and for all? To find out, you need to purchase or rent Trolls World Tour. Look for it wherever movies are sold/rented.
I watched the digital version of the film, so I did not see any bonus content. There is a lot of bonus content on the Blu-ray, DVD and Ultra 4K including;
Dance Party Mode – As Queen Poppy makes her way across the lands, this on-screen experience encourages the viewer to sing and dance along as they customize their own musical journey. With sing-along and dance elements, interactive pop ups and more, it's sure to be a world of fun!

Tiny Diamond Goes Back to School – In this exclusive original short film, journey back to school with Tiny Diamond as he tries to figure out how to be the cool kid and 'fit in'.

Trolls Dance Academy – Compilation of How-To-Dance pieces from Dance Party Mode for Pop, Waltz, Country, Funk, KPop and Reggaeton.

Trolls World Tourist Map – Cloud Guy provides a quick "tourist guide's" view of the six realms that make up Trolls Kingdom (Trolls Village, Symphonyville, Lonesome Flats, Vibe City, Volcano Rock City and Techno Reef),

Deleted Scenes

Trolls Perfect Harmony – Hear from the star-studded cast of Anna Kendrick, Justin Timberlake, Anderson .Paak, George Clinton, Kunal Nayyar, James Corden and the filmmakers about the history of music featured in the film. From classical to country to rock, pop and techno, the cast and filmmakers reveal their favorite types of music.

Trolls World Tour Backstage – A behind-the-scenes making of featurette showcases Anna Kendrick, Justin Timberlake, Rachel Bloom, Ron Funches, George Clinton, Mary J. Blige, Sam Rockwell and Kenan Thompson as some of the talent behind the Trolls and the process of bringing the them to life – Opening Act, Headliners and Encore!

Commentary 
This film is a lot different than the first one. The first film, Trolls, was just sugary-sweet and adorable to watch. Compared to this film, the first one is a lot "mellow." This film is like the first film, but a high-octane version.
I like the premise of this film. It's a fun concept. I just wish they didn't introduce so many new characters. A handful would have been sufficient.
I liked the music in this film. It's fun to see the various genres of film represented in this film. It's a nice way to introduce children to the various types of music. Sometimes children only know what their parents listen to. It's great to open their minds and ears to new music.
This is a bright, colorful film with laughs that will appeal more so to children than adults. Children will no doubt be fully engaged in this film, while parents might see it more as an "escape" from the day's stresses (more so the current events happening right now). As an adult, I certainly didn't mind not having to put on my "thinking cap." I rather enjoyed just being entertained with nothing else to think about.
I do hope that little kids don't think rock music is bad or evil. It's certainly not. It's just as enjoyable as the other genres.
Here is some fun bonus content for you to enjoy while you watch Trolls World Tour with your family and friends.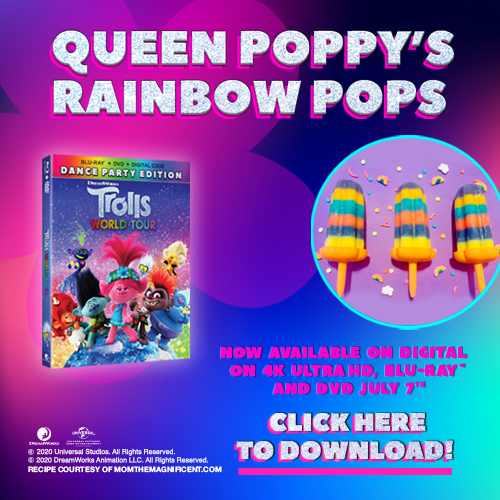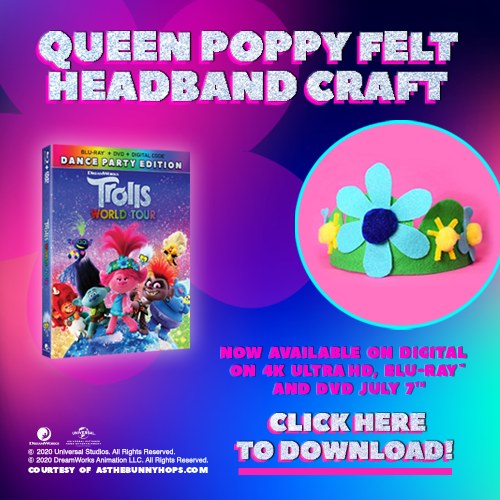 Kimberly
*I received a free screener copy to review. There was no compensation. The opinions expressed are my own and not influenced in any way.